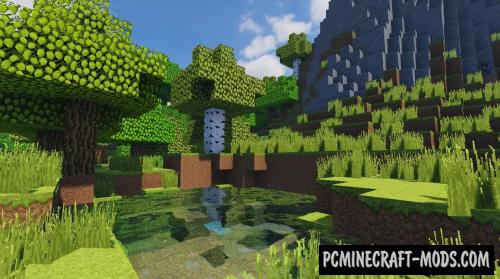 Here Default Realism 1.16.5-1.16.4 is a fairly high-quality resource pack that can seriously increase the resolution of your vanilla textures by as much as four or two times to 64×64 or 32x32x pixels, while the default realism fully preserves the original style of each block and maximizes its texture.

Resource pack mainly uses all the advantages of Optifine HD to combine with the author's work, for example, created about 100 geometric improvements for models on the surface of popular blocks and those vanilla blocks that are used to generate biomes in different worlds. The author paid special attention to the creation of a compass and a clock, because about 60 variations of the arrow position inside the compass were created for this purpose, so every time you see a change in the position of the arrow, you see a new compass body. This trick applies to the watch, but there are more than 190 positions for the arrow. Added moving parts for bookshelf and iron bars but in the future will be added more micro details on the textures of items held in the player's hand. Completely redesigned vanilla ambient sounds, for example during rain and thunderstorms changed 7 weather sounds. The author also pays attention to other micro particles that are used for mobs.
This can be used without additional modifications, because a higher resolution gives more opportunity during the construction or decoration of the building. Here absolutely all the blocks are reworked, so the player will not see sharp changes in the quality of graphics (this happens if some blocks are not redrawn to the appropriate resolution), but you still need to wait for the full release of Optifine to get the style of gameplay that was originally conceived by the author.
Default Realism consists of a huge number of improvements that can only be seen by experienced players or developers looking for new ideas for their resource packs, but players will get a completely new gameplay atmosphere that is not available in the vanilla version, so the player should feel the changes in each of the game locations, or in different places created by themselves.
Screenshots
How to install Default Realism
Install Optifine HD (Not necessary but desirable)
Download Resource Pack
Unzip it and copy to C:\Users\User_Name\AppData\Roaming\.minecraft\resourcepacks
In the game settings, select the desired resource pack
Ready
Created by DRTOfficial