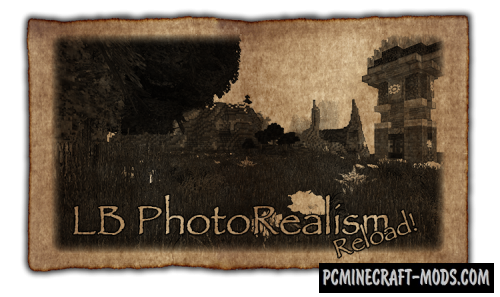 Have you missed interesting and high-quality resource packs? You should pay attention to the texture pack called LB Photo Realism Reload 1.17.1-1.16.5! It has many different textures in the old format, but in a new super realistic shell.

The pack includes many different 3D models, high contrast and quality textures for the various items with blocks, and don't forget about the new animation with improvements in other aspects. Using this pack the entire environment will get a very realistic look even without using shaders, but if you have Optifine installed you will be able to optimize all these graphics loads on your GPU and get a very photo realistic image.
The author tried to draw the elements as plausibly as possible, so that looking at the surface of the blocks from a close distance, you can notice microparticles that generate an ultra-high-quality image. This is mainly used to create screenshots on YouTube video previews or for example to compare other options. You can also see how powerful your RTX video card is, or just turn boring pixels into super high-quality gameplay.
Screenshots
How to install LB Photo Realism Reload
Install Optifine HD (Not necessary but desirable)
Download Resource Pack
Unzip it and copy to C:\Users\User_Name\AppData\Roaming\.minecraft\resourcepacks
In the game settings, select the desired resource pack
Ready