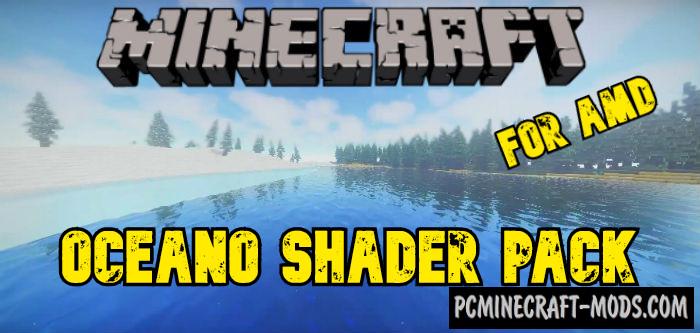 Initially, this 1.17.1-1.16.5 shader pack was created to make the water more realistic, but the author did not stop there and it was decided to add special shaders for each biome, for example: in the jungle you will see the most concentrated fog; in the snowy biome the color scheme narrows to black and white colors and adds shiny ice; if you go to the coast of the ocean or sea, you will see the maximum brightness and clear contrast of everything around.

It is better to use with additional texture pack and thus you can get the maximum effect of realism for the Minecraft 1.16.1-1.15.2. Also do not forget about the original idea of this Shader pack, it contains a very realistic water that has small waves in small bodies of water and large waves of water in the oceans. In some biomes, water can change its color and turbidity.
Oceano AMD Shaders Screenshots
How to install Oceano AMD Shaders?
Install the Optifine HD
Download the Shaders Pack
Unzip it and copy to the C:\Users\User_Name\AppData\Roaming\.minecraft\shaderpacks
In the game settings, select the desired shader pack
Ready