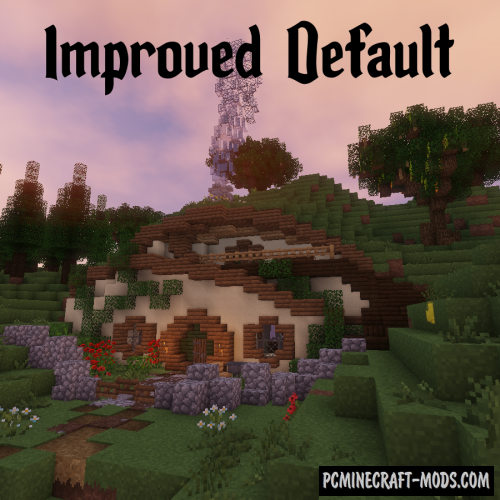 The author of Improved Default 1.16.5-1.16.4, being a big fan of vanilla textures, decided to create his own version of the improved default resource pack. Textures are highly recommended for use with shaders and optifine HD features.

Here is a very high-quality processing of vanilla textures, with which Minecraft will be very similar to the old RPG games, and there are many micro improvements that remove minor flaws and pixel separability on the blocks. Basically, the author uses all the functionality of Optifine and this will appeal to most players with weak GPUs.
Added geometric 3D polygon bulges on trident, shield, foliage, glazed terracotta, oak and jungle saplings, crossbow and arrows, making it possible to see fewer 2D objects with the old texture movement algorithm depending on the player's position.
Additionally, it contains more than 800 variations for randomizing most blocks. Every time a player sets a block somewhere, a special feature of Optifine will be able to change the direction of individual elements on each side of the block.
There is 3D transparency to improve the volume of saddle, redstone and golden rail, elytra and chest.
Changed the inventory GUI to a better quality with a bunch of nice finishing touches at the corners and in the center of the grid with slots for ingredients.
Improved Default Pack is a great solution for fans of the classic game, because it will complement and eliminate all the shortcomings that the developers missed. During survival, this set of improvements will always lift your mood and add more interest to mine resources, build houses, or just travel in the game world.
Screenshots
How to install Improved Default
Install Optifine HD
Download Resource Pack
Unzip it and copy to C:\Users\User_Name\AppData\Roaming\.minecraft\resourcepacks
In the game settings, select the desired resource pack
Ready