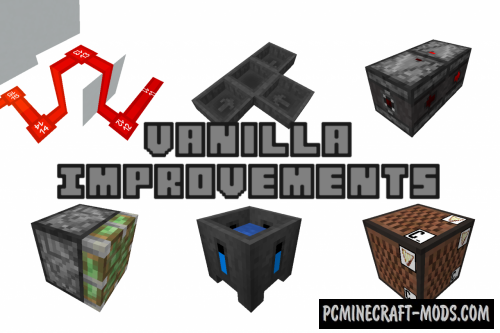 Vanilla Improvements 1.16.5-1.16.4 is a complete set of small but extremely useful improvements to your standard textures and even parts of the interface that will make your favorite game even more convenient and simple!

For example, Redstone will have a signal strength indicator, and corresponding indicators will also be added to all other mechanisms and tools. More modern textures for the player and music block. Now the player will be able to build mechanisms more comfortably because there will be a lot of hints that are more noticeable than vanilla options, this is useful for both beginners and professional players. Additional hints on blocks also have decorative features and can be used as landmarks in caves or as an interior in rooms.
The author also tried to change the standard UI which in his opinion is considered less relevant, for example, he changed the brewing stand GUI, removed health flash with health loss indicator, some changes to the background image and many more small changes that will make your survival less annoying.
Screenshots
How to install Vanilla Improvements
Install Optifine HD (Not necessary but desirable)
Download Resource Pack
Unzip it and copy to C:\Users\User_Name\AppData\Roaming\.minecraft\resourcepacks
In the game settings, select the desired resource pack
Ready