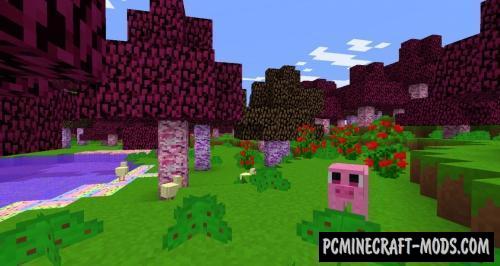 The World of Kawaii 1.16.5-1.16.4 is the best cute resource pack that was created for the game world. This texture pack will be a valuable discovery for many girls. This turns your Minecraft world into a kawaii world, a world of cartoons and anime. The abundance of pink color, pleasant panache and much more will make the girls scream with joy.

This will change all the basic textures, for example, mobs will get pink pigtails, most building blocks are painted in red and pink color palette, the bed will get a blanket with various funny animals, the workbench and stove will turn into a box with the image of anime characters, and many other small changes.
The author tried to turn scary game places into fun alternatives where you will find new adventures. For example Nether Update is now more fun because there piglins look like funny pigs from anime. In addition, a lot of work has been done to balance the toxicity of the color palette and the concentration of textures in the biome, so that in some places it now looks much more beautiful and combines perfectly with the remnants of vanilla resources.
Screenshots
How to install the Kawaii World
Install Optifine HD (Not necessary but desirable)
Download the Resource Pack
Unzip it and copy to C:\Users\User_Name\AppData\Roaming\.minecraft\resourcepacks
In the game settings, select the desired resource pack
Ready
Created by MaRiieCx