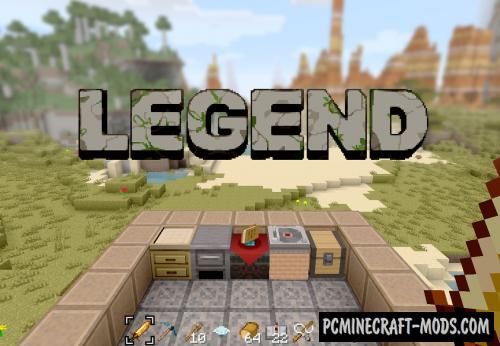 Here Legend Resource 1.16.5-1.16.4 is a wonderful resource pack that is completely focused on the game in survival mode! After all, Legend is able to completely preserve the original Minecraft atmosphere, while adding a new, more convenient and eye-pleasing color scheme with appearance for blocks and items!

Most blocks have a smoother style that lights up the environment a bit and also adds new notes to the gameplay. The author tried to turn medieval tools and furniture into more modern, something like the beginning of the 00s (at the time when the release of I am a Legend film). As in the original film, the main character travels a lot, exploring large cities to find food and materials for crafting weapons and fortifying their homes, so you can download an additional map with the city to feel in the same role.
Mobs here received more thoughtful skins that convey real emotions, for example more dangerous opponents have scary faces that make any player run away or for example more friendly mobs have funny faces with a grin.
Building materials and decorative elements have changed their texture style a little so you will mostly need it to play on special maps or for example you will be able to build a house with a fresher design both outside and inside .
Screenshots
How to install Legend
Install Optifine HD (Not necessary but desirable)
Download Resource Pack
Unzip it and copy to C:\Users\User_Name\AppData\Roaming\.minecraft\resourcepacks
In the game settings, select the desired resource pack
Ready