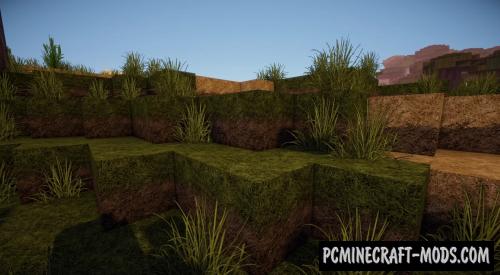 Here Miranda 1.17.1-1.16.5 is a fairly high-quality resource pack with a medieval theme reminiscent of vanilla style! This texture pack was created to add quite dark, high-resolution photorealistic textures that are 256×256 pixels to your favorite game!

This is a bit of a heavy pack, but modern GPU optimization algorithms will make it possible to play with it on medium-power computers. Miranda is a set of unique textures created in the style of the stone age and medieval themes. This significantly improves the graphics, replacing the standard textures with better quality and the player is almost unable to see the clear borders that separate the block from other blocks. The author tried to study the style of building materials and old things to transfer it to the game. It turned out to get some interesting atmosphere that is felt around your or vanilla buildings because many items contain interesting references to ancient times!
Especially beautiful are wooden building materials and other ready-made things, for example, the player can merge all the blocks together and it looks very cool inside the rooms. Slightly darkened textures mask layer transitions very well and also add a more saturated atmosphere of the middle ages. The glass has a completely transparent surface, so the player will focus more on the window frame and partitions. Cobblestone blocks are also one of the most popular building materials, so the author has spent a lot of time so that you do not feel vanilla flaws and made it more qualitative with the feature of merging textures. Blocks of ore and ordinary stone will plunge you into a darker mine that you will want to return to many times. Decorative items such as torches, stairs, fences, tools and other popular items have a single style that makes it possible to use it in any room even if there are different colors of wood used.
Screenshots
How to install Miranda
Install Optifine HD (Not necessary but desirable)
Download Resource Pack
Unzip it and copy to C:\Users\User_Name\AppData\Roaming\.minecraft\resourcepacks
In the game settings, select the desired resource pack
Ready
The official paid version for MCPE:

Direct link: