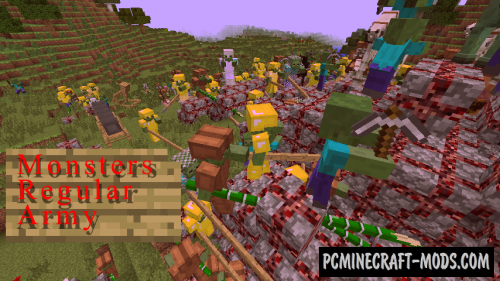 MonstersRegularArmy 1.12.2 modification will introduce a whole army of hostile mobs into your game, which will be much stronger than the standard ones. They have the best artificial intelligence as well as a unique memory feature. To trigger the attack of this army, you will need to build a special block!

To start an invasion, you must create a "Base Block" (one iron block, two iron swords) and "War Declaration Paper" (one paper, one iron sword). Next, place the base block in the place where your base will be, and use the paper with the Declaration of war on it. Then, after searching for a respawn point, the monsters will come to invade.
There are 6 types of monsters in total, as well as different waves that combine different mobs. The most intelligent engineers mobs will start building their buildings and strengthen the starting position. If the player build them up with buildings, the engineers will request the teleportation of cannons that will begin to destroy your structures. Additionally, the author provided the possibility to change the complexity level in the configuration file (config/monsterregulararmy.cfg). You can choose the following parameters: CUSTOM, ASY, NORMAL, HARD, VERYHARD, INSANE and IMPOSSIBLE. At the last level, the mobs' intelligence will grow so much that they will start building a launcher to launch a nuclear missile.
Screenshots
How to install MonstersRegularArmy Mod
Download and install Minecraft Forge
Download a Mod
Unzip it and copy to C:\Users\User_Name\AppData\ Roaming\.minecraft\mods
Ready