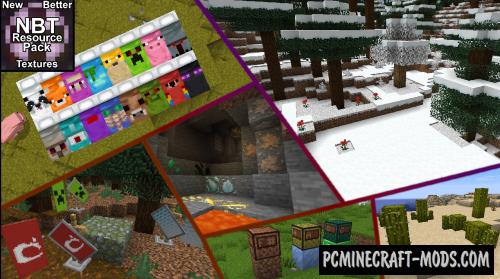 Here New Better Textures 1.17.1-1.16.5 is a fairly high-quality resource pack that, without changing the vanilla style of the game, will be able to make a lot of different and at the same time excellent cosmetic adjustments for you and make your favorite Minecraft even more enjoyable and filled with unusual details!

This contains new features for some texture elements to make it glow at night, which gives these options a unique atmosphere of comfort in each biome. The author has done a lot of work on improving all the GUIs, finished or redrawn all the icons of items, paid special attention to building blocks and all other frequently-used blocks so that it had the feature of merging into a single style somewhere in one room. The biggest changes were made to the ore blocks, it has completely different textures, but this way you can more quickly distinguish the type of ore with a minimum level of lighting in the caves.
For stable optimization, it is very desirable to install the latest version of OptiFine because it has functions for activating 3D models and a random pixel generator on the block surface.
Screenshots
How to install New Better Texture
Install Optifine HD (Not necessary but desirable)
Download Resource Pack
Inside there are 3 archives, the first of which is the main pack and 2 Addons (Flashlight and Note Mode) that are installed at your discretion.
Unzip it and copy to C:\Users\User_Name\AppData\Roaming\.minecraft\resourcepacks
In the game settings, select the desired resource pack
Ready
Credits
Created by: Devu (Official YouTube, Twitter)