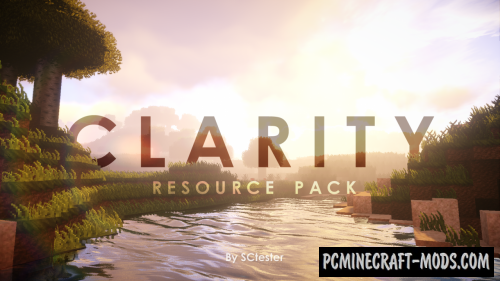 Great resource pack under the pleasant name – Clarity 1.17.1-1.16.5, this takes you to a whole new level of graphics, thanks to very careful work on each block and a well-thought-out balance between traditional style and realism.

Its resolution is not standard, but is as much as 32 x 32 pixels, which is ideal for increasing the number and quality of details that surround you, while leaving everyone's favorite cubic block styles of your minecraft. Basically it has warm tones that are very noticeable in the daytime or at sunset. It's a great idea to install shaders to add more realistic physics and as a result you can get several times better graphics.
The author used an interesting drawing technique that turns the processed materials into a kind of game element that distinguishes buildings among ordinary blocks more gently than the vanilla option. Now your buildings will look more balanced inside biomes, so this is a great option for normal survival and even more so for creative ideas.
Screenshots
Review
How to install Clarity
Install Optifine HD (Not necessary but desirable)
Download Resource Pack
Unzip it and copy to C:\Users\User_Name\AppData\Roaming\.minecraft\resourcepacks
In the game settings, select the desired resource pack
Ready
Created by SCtester
Official link:

Direct links: