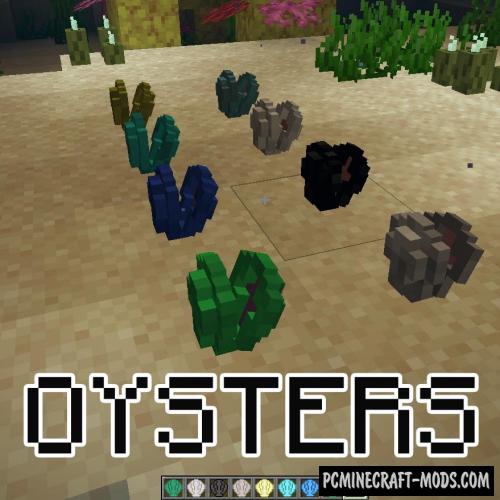 Oysters 1.16.5-1.15.2 modification adds a huge amount of new aquatic content to your underwater world. Now the player will be able to breed oysters, get pearls and then craft various armor sets, tools, weapons, and even get a new ability.

Updated to 0.1.6 version
Features
Oyster Breeding mechanics allow you to breed oysters. This process is very slow and you will need 10 times more time and resources than in the case of animals
Oyster Mutation mechanics makes it possible to get a new kind of oyster. This will require a stack of oysters and a little more of another species to get the mutations
Oyster Pearls are a valuable material that oysters produce. You can craft some swords, armor, and other items from this one
Pearl Block is a decorative block that is only used for cosmetic purposes, but you can also disassemble it back into pearls
Pearl Necklace – a great magic item that can be left in the inventory and get Conduit Power effect
Pearly Iron and Diamond Tools are used to work more effectively with blocks under water. Now you can destroy blocks twice as fast as usual
Pearly Diamond Armor gives you a secret riptide ability, for example, when you wear a full set of armor and hold a Pearly Diamond Sword in your hand, just right-click to do this.
Screenshots
Craft Recipes
How to install Oysters
Download and install Fabric
Download mod
Unzip it and copy to C:\Users\User_Name\AppData\ Roaming\.minecraft\mods
Ready