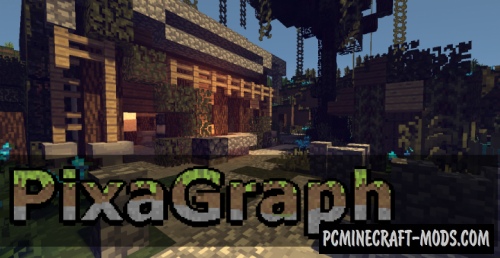 The PixaGraph 1.17.1-1.16.5 resource pack does not contain any particularly drastic changes, but it is more superior to the regular version of standard textures. This can give your world a bit of cartoonishness and a very high-quality RPG atmosphere.

As a result, the author managed to draw a very atmospheric and interesting game world, completely different and with its own twist. Almost all options are redrawn: from world blocks to the menu and inventory UI. It is also worth noting that stone, bookshelf, glass, ore blocks and quartz can be improved (micro-parts and random pixels will be Added) when using Optifine. In addition, it is possible to improve the lighting from various light sources, such as lava and glowing stone or torch, for this you can use shaders.
This basically contains all the prepared hidden features that are activated when used with Optifine, but you can still use it instead of the vanilla option. Experienced players may notice improvements and changes, but for beginners it will look like a slightly updated world.
Updated to Caves and Cliffs version
Screenshots
How to install PixaGraph
Install Optifine HD (Not necessary but desirable)
Download Resource Pack
Unzip it and copy to C:\Users\User_Name\AppData\Roaming\.minecraft\resourcepacks
In the game settings, select the desired resource pack
Ready
Credits
Created by: Amzahr (Official YouTube, Twitter, Twitch)

Downloads