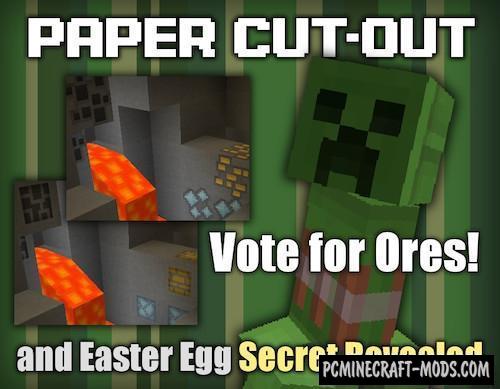 With this resource pack, all the blocks, items and mobs in the game will look like they were made of paper. The Paper Cut-Out 1.17.1-1.16.5 texture was darkened and roughened to give more effect and realism. Textures have a standard resolution, which is ideal for owners of not very powerful computers.

The author recently carried out a large-scale redesign, the style of which is used in other modern games or cartoons. It highlights a unique cartoon style that will appeal to most players who want to see a lot of positive and funny elements in the game.
Basically, it uses a little tricky deceptive drawing style, for example, if you look at one of the sides of the block, you can see that it consists of about 8 reduced blocks, or a little less elongated rectangles on the skins of mobs. This allows the game to create a harmonious combination of blocks of different sizes that generate chunks. As you know, if you place such blocks at different distances from the player, you can create a 3D effect (Very noticeable on the leaves of trees). This 3D feature is well combined with different shaders that contain custom shadows, because it further enhances this effect.
Blocks of ore, building materials and tools also have not very prominent elements, but mostly it is perfectly combined with other thematic blocks during the construction of the house.
Paper Cut-Out is perfect for both adventure and survival, creativity and just to spend a lot of time while extracting resources. It does not have a toxic color palette and other annoying objects, so it is suitable for almost any player who wants to update the appearance of the game world.
Screenshots
How to install Paper Cut-Out
Install Optifine HD (Not necessary but desirable)
Download Resource Pack
Unzip it and copy to C:\Users\User_Name\AppData\Roaming\.minecraft\resourcepacks
In the game settings, select the desired resource pack
Ready
Created by chengzzi89 (Discord Server)