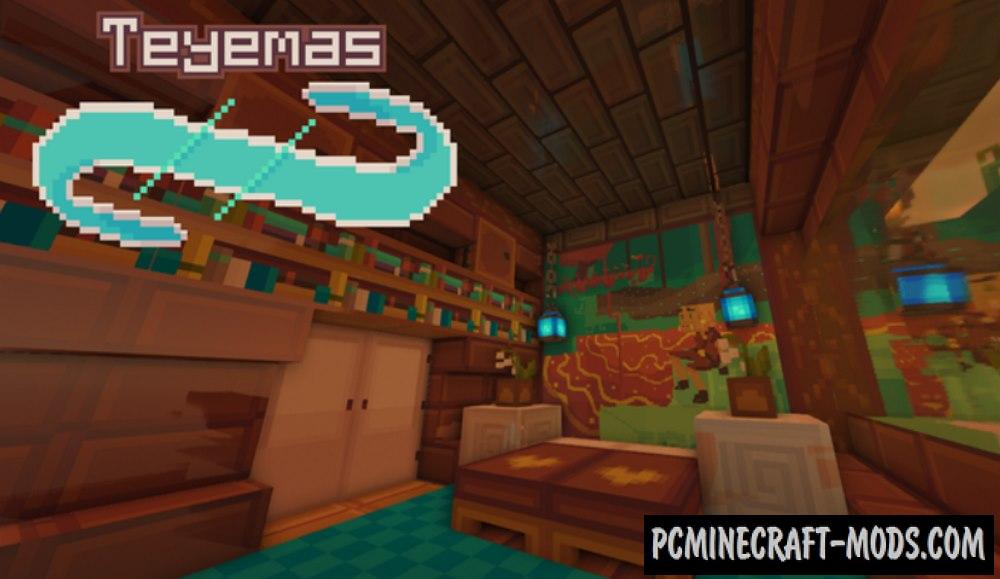 Teyemas 1.17.1-1.16.5 is a very cute 16×16 resource pack that combines both a cartoon style and a more mysterious-mystical atmosphere including all non-contrasting and muted colors. This color palette is used by almost all other packs.

These are simple, but at the same time a little strange textures that allow the player to get a completely new experience of the cubic world. Almost all the blocks are redrawn, which confirms the author's long-term efforts to achieve the highest results among other options.
Basically, this is a very colorful set that will make the gloomy and monotonous gameplay more entertaining, fun and filled with various warm colors. Every time you open a different GUI, you can get a lot of impressions that will remove annoying factors, so this is a great option to spend more time inside the game world.
Screenshots
How to install Teyemas
Install Optifine HD (Not necessary but desirable)
Download Resource Pack
Unzip it and copy to C:\Users\User_Name\AppData\Roaming\.minecraft\resourcepacks
In the game settings, select the desired resource pack
Ready
Created by: meyeswat (Official Twitter, Twitch – Video guides for creating models and textures)
Pocked Edition Versions:

PC Versions: