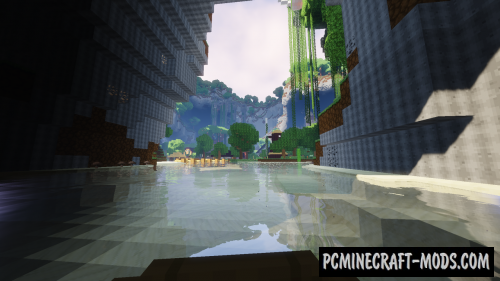 This HD resource pack called Yure's 1.16.5-1.16.4 is a kind of copy of another interesting Smooth Blocks texture pack, in which its textures have been replaced by almost direct analogues with higher resolution.

This makes this resource even more complex and pleasing to your eyes. The authors tried very hard to make you get the maximum emotions from using this resource pack! With the Yure's special attention should be paid to the environment of Minecraft because it has received HD arts night and day sky, added more pixels for small details such as item icons and other changes that are visible only after installing Optifine.
This pack is mainly used to add more adventure gameplay to your world. The author changed precious things so that they look even more beautiful, for example, diamonds, emeralds and other minerals got a little cartoon but better quality than cheap resources. Now finding such things in chests or somewhere in caves will become a little more pleasant and emotional for the player.
By exploring new biomes or even places that you have already visited, the player will be able to get even more impressions of the environment because the groups of blocks that are generated on the surface of biomes have a single style that emphasizes the local flora. The full potential and hidden features will be available only after installing Optifine but even the standard functionality of pack contains everything you need for a comfortable gameplay.
Screenshots
How to install Yure's
Install Optifine HD (Not necessary but desirable)
Download Resource Pack
Unzip it and copy to C:\Users\User_Name\AppData\Roaming\.minecraft\resourcepacks
In the game settings, select the desired resource pack
Ready
Created by Yuruze
Download from the official link to support the author:

Direct link: