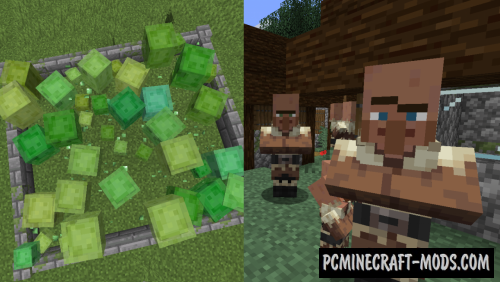 Here is a unique resource pack called Creature Variety 1.16.5-1.16.4, which is able to significantly diversify and randomize almost all the textures of your mobs. From this point on, they will start to differ in height, different skin microelements, and also have cool animation for some parts of the body.

In total, it contains about 3000 options for facial expressions, random pixels on the skin, slightly changed clothing colors, or for example, Piglins may have random accessories or even different fangs. Special attention should be focused on the villagers, now they look more realistic due to random eyebrows, eye color and different skin color. In addition, it will appeal to all farmers because you no longer have to give names to each animal to distinguish them, now they also have their own unique features that make it very easy to distinguish one animal from many others.
The author added so many random things for each mob that the chance of generating clones is about 2.5-5% (Like the birth of twins in the real world).
Some of the mobs can change their appearance and 3D model, mainly for octopus and squids. Now there is an equal chance that a female or male will be generated and in the wild they are very different.
The main feature of this texture pack is the randomization of zombies, because each zombie also has a feature to change the color of the body in different 20 colors, and they will get different clothes. This will give you the opportunity to recreate a more realistic zombie apocalypse.
Such dangerous monsters as ghast will start to differ in facial expressions, such as laughing or being sad, and they can also close one of their eyes.
Pets will become much nicer because some of them will get a rare coat color and a cute smile. To get such cute animals you will need some time to find a unique specimen.
But I must warn you that in order for this to work, you need to install Optifine, otherwise you will simply not be able to use all the features of the pack.
Screenshots
How to install Creature Variety
Install Optifine HD
Download Resource Pack
Unzip it and copy to C:\Users\User_Name\AppData\Roaming\.minecraft\resourcepacks
In the game settings, select the desired resource pack
Ready
Created by DraminOver
Official links:

Direct links: