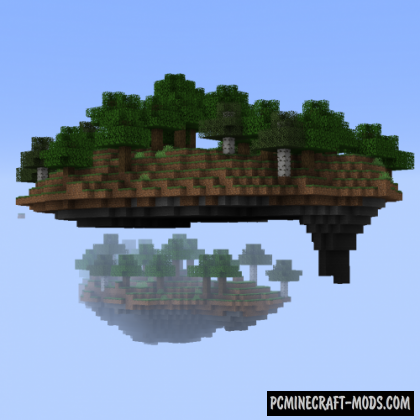 With this Sanonasu's Floating Islands 1.16.5-1.16.4 data pack, you can create your own cube world, which consists entirely of flying Islands located at different heights. These Islands have completely different biomes, and ore will start to be generated on them regardless of height!

This is a great world generator that will turn your ordinary survival into an epic and beautiful adventure between Islands. Some of them are connected by waterfalls, and there are also rare flying Islands with treasures, villages, and other random structures. The author took care of their size, so that large Islands are generated less often because such places are a great place to build a house.
Features
Ability to meet floating Islands with multiple biomes on the surface
You can customize the list of biomes
Islands are generated at random heights
Blocks of common or rare ore are generated regardless of height
The surface of the Islands has vertical chunks
Such a world completely eliminates the massive space generation of the game world.
Screenshots
How to install Sanonasu's Floating Islands Data Pack
Open the game
Select the world in which you want to install the data pack, and click on "Configure"
Click on "Open world folder"
Open the "data packs" folder and extract the downloaded archive to it
Ready