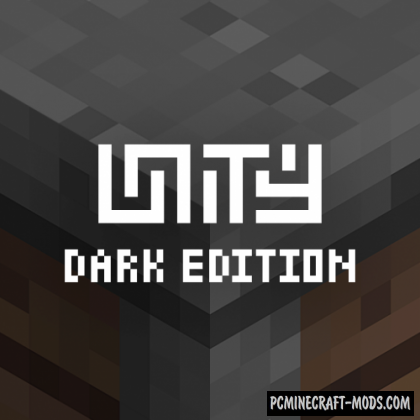 Unity: Dark Edition 1.16.5-1.12.2 resource pack was created for a more comfortable game at night. It has all the necessary features to turn the entire GUI as well as the boot screen into a dark option (Dark Mode). You can easily use this as a new feature that is available on most popular services, websites, social networks and mobile apps.

As you know, theCyanideX modder worked on the creation of this pack, which became famous due to participation in the development of super-popular Refined Storage, Industrial Forecasting, Blood Magic, Mekanism and other modifications. By the way, this texture pack is fully compatible with their GUI, so you can not worry that you will get a vanilla light gray GUI.
This contains alternative dark options for Settings Background, Recipe Book, Server Selection, Widgets, World Selection, Bars, Checkbox, Creative Inventory, Crafting Table, Dispenser, Enchanting Table, Furnace, Grindstone, Hopper, Horse Inventory, Shulker Box, Smoker, Stonecutter, Anvil, Beacon, Brewing Stand, Advancements, and of course new options for branded Mojang Loading and Title Screens. In addition, you can see that some vanilla icons of objects were drawn in a special way and optimized for a light theme, so the author worked on this to remove incompatible pixels and give the items an updated look.
The author also recommends using the basic Unity package which will add more improvements to the blocks.
Screenshots
How to install Unity: Dark Edition
Install Optifine HD
Download Resource Pack
Unzip it and copy to C:\Users\User_Name\AppData\Roaming\.minecraft\resourcepacks
In the game settings, select the desired resource pack
Ready
Credits
Created by: theCyanideX (Official Twitter Account)

Direct Links: