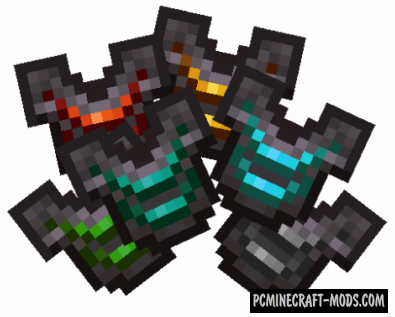 With Upgraded Netherite 1.16.5-1.16.4 modification, you can improve netherite armor with new ingots by using vanilla materials! This will give you new effects like immunity to fire damage, breathing underwater and Piglin's neutral behavior.

Here is a list of all available improvements and their bonus effects for the player:
Netherite Apple gives fire resistance, increased damage, stamina, and hunger resistance. You can also enhance all these effects by turning an Apple into an Enchanted Netherite Apple
Phantom Upgraded Netherite can be used to get a drop resistance and a high jump on your armor. This also works with horse armor. If you use this for a sword, you can increase the damage by 2 points and it also highlights the enemies around you
Poison Upgraded Netherite gives full immunity from poison. You can also use this for horse armor. A sword with this upgrade will get a good chance to poison the enemy
Wither Upgraded Netherite gives the armor owner full immunity against Wither as well as the ability to poison enemies with the Wither effect
Water Upgraded Netherite is used to get unlimited breath retention under water and it can also be used to improve the sword. Such a sword deals 3 points more damage to creatures that are immune to fire and it will also be an effective weapon against Endermen
Ender Upgraded Netherite adds the effect of teleporting the player in the event of an enemy attack from the rear. The same features have a horse armor. Using this improvement for the sword, you can get an effect that prohibits Endermen from teleporting for 10 seconds
Fire Upgraded Netherite can be used on armor to get full fire resistance and increase movement speed in lava. Fire sword increases damage to all enemies by 1 point and also gets a feature to set them on fire
Gold Upgraded Netherite is suitable for players who loot a lot because it imposes a looting III effect. You will also not be attacked by Piglin.
Screenshots
Craft Recipes
Review
How to install Upgraded Netherite
Download and install Forge
Download a Mod
Unzip it and copy to C:\Users\User_Name\AppData\ Roaming\.minecraft\mods
Ready
Created by: Rolfmao25