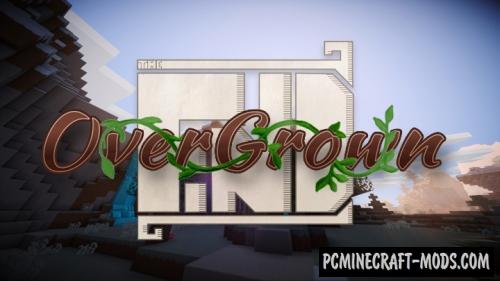 The Find Overgrown 1.16.5-1.16.4 resource pack looks like a good alternative to the already familiar vanilla textures. This pack will add to your game the texture with a few more vivid details and nice colors that are suitable for both severe survival and for playing a variety of adventure maps. By installing these textures you will never return to the standard textures!

For the cube world to get a better shape it will be enough to have standard built-in shaders in Optifine, but you can experiment with other shaders that will add more 3D elements for blocks and tools or for example install shaders that contain improved physics.
The author tried to add a little more cartoon details for each object in order to remove or hide the medieval style of the default world as much as possible. Basically, it is sharpened for lighter tones, so it will appeal to all fans of light and pleasant gameplay with which you can spend a lot of time in creativity or relax by extracting various resources.
Additionally, you should pay attention to the tools, their appearance is at least different from the materials from which they are made. This is done so that each player can interpret the tools somewhere in the wall and also so that it has a uniform style with the surrounding blocks.
Simpler blocks such as grass, stones, gravel, sand, and other unnecessary resources were simplified, but useful blocks received an improved appearance. You can use this to highlight buildings against the background of other biomes and thus they will become even more beautiful when viewed from different angles.
Screenshots
How to install The Find Overgrown
Install Optifine HD (Not necessary but desirable)
Download a Resource Pack
Unzip it and copy to C:\Users\User_Name\AppData\Roaming\.minecraft\resourcepacks
In the game settings, select the desired resource pack
Ready
Created by Spiffyj