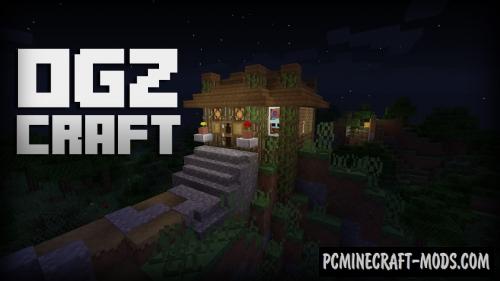 OGZCraft 1.16.5-1.16.4 – an unusual smooth texture pack that is created in an ultra-low resolution of 8 x 8 pixels. The simplified style gives the pack a certain charm and lightness. Its simplified design is the main feature that is designed to reduce the load on the computer. Some of the blocks look much better than the vanilla 16x options.

This is one of the first non-standard packs whose main goal is to optimize the gameplay for weak GPUs. The author tried to compress the textures as much as possible, but also spent a lot of time improving their appearance. As a result, we got a very high-quality work that is not inferior to the vanilla resource set or other packs with 8×8 resolution.
Basically it's smooth textures that will make the world easier, lighter and also get a certain cartoon note. To add more features, the author used 3D scripts that finish drawing new elements and objects on blocks, as well as on sets of armor, tools, and other frequently used things. More advanced armor sets make it possible to play on PvP servers with minimal GPU latency.
Most 8×8 works use a simplified drawing style but here the author tries to mask the cubic pixels as much as possible and for this purpose special sets of palettes are used that blur the surface of the block thereby creating a single huge pixel. A set of such huge pixels smoothes the surrounding environment which makes it more beautiful and the player does not notice the compression of the resolution.
Screenshots
How to install OGZCraft
Install Optifine HD (Not necessary but desirable)
Download Resource Pack
Unzip it and copy to C:\Users\User_Name\AppData\Roaming\.minecraft\resourcepacks
In the game settings, select the desired resource pack
Ready
Created by OfficialGoneZero

Direct link: