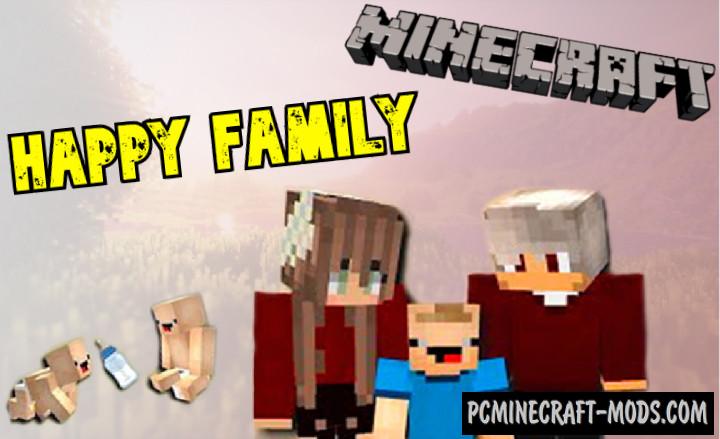 If you like a family role-playing game, but you do not have friends and acquaintances with whom you can play do not be sad – Happy Family 1.17-1.16 addon for Minecraft Bedrock will add the ability to have a guy or a girl, marry them, have baby or a pet.
Since this mod is still new, it contains only 3 skins of the girls and 2 of the boy, but soon the author will add more.
Features
To access all elements of the add-on, enter (function hf), and enable the Experimental Gameplay Option.

After entering the code you will get several different eggs with mobs.

To check the status of relationships with entities, press Shift while next to them (Nothing-Friend-Girlfriend – Boyfriend – Wife or Husband)

To make friends, select Phone (Give – Ask Phone Number) and stand next to your goal. If all went successfully then in the upper right corner you'll see the Health bar girl or boyfriend.

In order to get married you need to choose a ring and sit down a few times. If successful, the status will change and hearts will appear around the entity.

After you are married, you can ask your wife to cook meat. You can also ask them to perform tasks (mining, timber, fishing,hunting, or farming).

BUT – for tasks you need to achieve married status. Important – you can not force your wife to cook if she is pregnant
otherwise she will no longer be able to cook.
How to give a Job:

Mining – Equip a Diamond pickaxe on your hand and a job button will appear
Wood mining – Equip Diamond axe on your hand and a job button will appear
Fishing – Equip the fishing Rod on your hand and the task button will appear
Hunting – Equip a Bow on your hand and the task button will appear
Farming – Equip the Diamond hoe on your hand and the job button will appear

If you got married then after 1 hour they will get pregnant and after another hour born the child.
To speed up pregnancy, you can use "Clomiphene" to receive enter (give @s entity:clomiphene)
After birth, the baby will become a toddler in 1 hour, to speed up the process, use "Booneto", enter (give @s entity:booneto)

Also, as I said before you also have the opportunity to have a pet of different species.
Screenshots
How to install Happy Family
Download zip archive with addon inside
Open the addon file using the ES Explorer
This should start the import
Open world settings
Select new Behavior Pack and Resource Pack
Enable Experimental gameplay (if necessary)