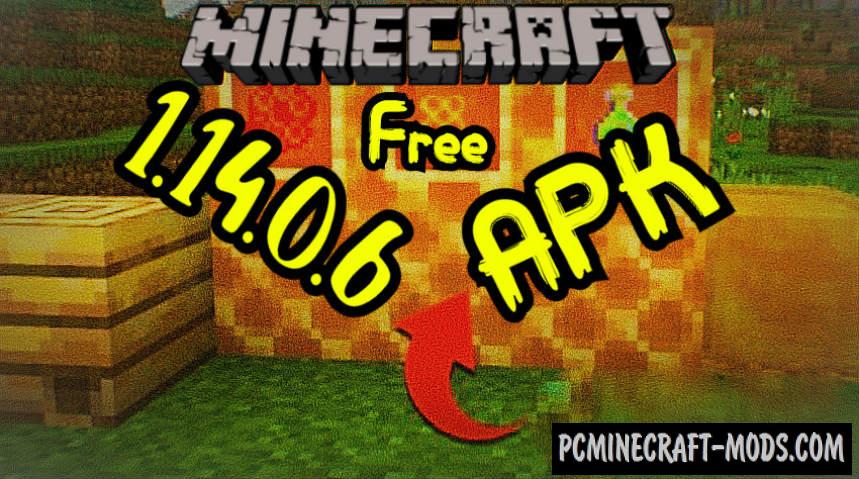 This update contains small fixes and features for the new version of Minecraft 1.14.0.6 on Android. Added some features for mobs and blocks so players can test it and in case of errors, report it via bug report.
Next, we are waiting for much more new updates for the MCPE 1.14 that will contain significant changes to the gameplay, such as optimization of graphical perfomance, the addition of new features for the character editor, new features for blocks and interaction between them.
Minecraft 1.14.0.6 Android Features
Minor fixes related to game crashes. Developers have been studying this problem for a long time, but every month there are new smartphones and tablets with their GPU, and in some cases the game can simply crash, but they work on it every day.

Redesigned features for lingering potions. Now it is transferred to other clusters so that this item could not crash the game in any way. As you know, some items have similar ID, variables, algorithm logic, etc. if an item with similar parameters together works with another such item, then it can affect the correctness of the game.

Some custom capes in Minecraft 1.14.0.6 had an old model structure and it was not rendered properly. The developers have added new features to the custom capes processing algorithm and now it works correctly.

If you use a lot of applications, or on your smartphone there is a huge number of folders and files, or some folders are encrypted, then in some cases Minecraft could be very long to load custom skins and you had to restart the game. But now in case of such a situation, the new features will simply stop the process of loading the skin.

Some Marketplace maps contained a structure blocks that prevented the player from interacting with their inventory. Minecraft Marketplace content team conducted a review of all maps for the presence of similar blocks in the maps to fix this bug.

The redstone signals now have more features, because sometimes this signal could interfere with the boundaries of some new blocks.
Changed the animation of the body when riding a horse. The player will no longer rotate his hands in different directions as before.

Returned Minecraft old version features for Carved pumpkins, now you can create from this a new Iron Golems.
A small change in the behavior of bees, if you open the door then they will be able to fly through it.
Minecraft PE 1.14.0.6 Overview
Download Minecraft v1.14.0 Android