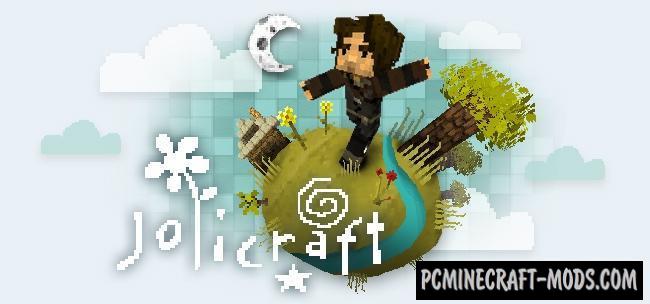 Jolicraft 1.17.1-1.16.5 is an interesting resource pack with a great design and a unique RPG-Adventure atmosphere. It contains features to change all textures of blocks, items, GUI, mobs and other game elements. A great choice to turn boring survival into a colorful adventure between biomes.

The author managed to create a very successful project because now it is sold in the official marketplace for Bedrock Edition version, but for Java Ediiton it remains a free pack that can be used by every player.
There are so many changes that each player can spend hours looking at a lot of micro details on armor, blocks, mobs, and other game elements. Using this you can safely go to explore new territories because at every step the player will meet new unforgettable sensations and just a beautiful environment.
Despite the default 16×16 resolution, the author tried to add as much detail as possible to each side of the block or item. But if you look at the vanilla textures, you will notice that the developers make a lot of repeating pixels and slightly darken the default pack, so this is a great alternative to diversify the game world and not much light up the scary places.
Monsters here have a more realistic look, this style of drawing is used in most popular horror games and it is much scarier than the default options. Some animals have become a little nicer but others have lost their harmless facial contours and replaced it with a more realistic appearance.
Jolicraft is a great texture pack for both beginners and advanced players. This can mainly be used to extend the in-game time without changing the load on the GPU and CPU. Add more fun and bright moments to your monotonous survival.
Screenshots

Review
How to install the Jolicraft
Download a Resource Pack
Unzip it and copy to C:\Users\User_Name\AppData\Roaming\.minecraft\resourcepacks
In the game settings, select the desired resource pack
Ready
Created by: andrejolicoeur
Official link:

Direct link: