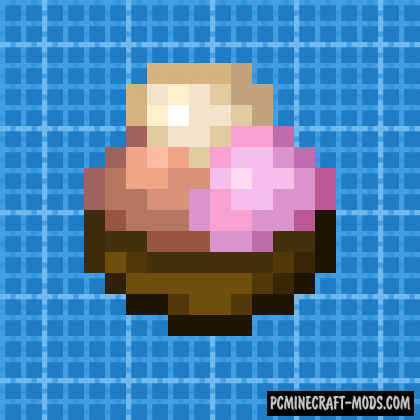 Neapolitan 1.16.5 modification can add vanilla, chocolate and even strawberries to your game, opening up new possibilities not only for cooking, but also for creating various decorative and building blocks! Explore the biomes to find special fruit plants to use their fruits to craft delicious dishes.

Basically, it has a set of tweaks that slightly change the default algorithm for generating random structures. So now the player can come across glades of fruit bushes or even banana trees near the beaches. This will appeal to those players who explore a lot of different biomes and is one of the easiest ways to find more food sources. As a result, having collected all the necessary ingredients, you can prepare modern dishes that have many positive effects and give more points of satiety than the default ones.
Features
Banana trees are generated in the jungle or on the beaches. You can also grow it using leaves and blocks of sand or gravel. Just wait for the rain and a real banana tree will start growing in this place. Food from this fruit tree has one of the unique advantages which is that you will be able to climb the stairs during the meal
Walking through the savanna, you can come across a random structure that resembles a picnic. Probably someone came to rest, laid out a basket with fresh strawberries and delicious chocolate, but then mysteriously disappeared somewhere
To use the new food in the future, the author came up with a very realistic storage method. Now you will have to craft boxes for storing food. There they will begin the drying process and will not lose their useful properties
When exploring the plain biome, you will find mud mixed with earth, which means that strawberries grow there. This plant can be useful to diversify your garden and also to get the necessary ingredients for crafting ice cream.
Screenshots
How to install Neapolitan
Download and install Forge
Install Abnormals Core
Download a Mod
Unzip it and copy to C:\Users\User_Name\AppData\ Roaming\.minecraft\mods
Ready
Credits
Created by: TeamAbnormals, paradiscal and bageldotjpg

Direct Link: