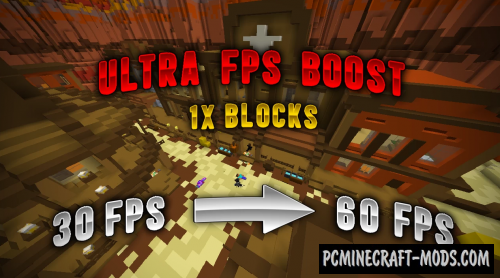 Ultra FPS Booster 1.17.1-1.12.2 will be able to simplify the textures as much as possible, thereby allowing you to get a significant increase in the smoothness of FPS and speed of frame playback that are so necessary when playing on various PvP servers or when playing on a weak computer!

Resource pack has hundreds of options to simplify the appearance of the blocks, which is much faster processed by the video card than with vanilla gameplay. Basically, it contains 1 pixel resources for most blocks, but precious ores and commonly used tools have a few more pixels, which allows you to distinguish them among the many monotone blocks.
Using this you will get even more performance improvements than in the case of 8x or 4x packs. During tests on multiplayer servers, it was possible to get about 2 times the boost without loads and about 0.5-0.8 x boost in peak loads (For example, mass battles, flying over terrain with a lot of vegetation or dynamite explosion). It is worth noting that players will need some time to get used to such ultra-low detail, but if you play for a long time, this adaptation process will take place in a few days. In addition, this has much more advantages during the construction of creative buildings or 3D art, or custom terrain, because each unit of building materials is something like large pixels that no longer need to be masked by smooth shifting using wool blocks, so you get very strong buildings with excellent design.
Screenshots
Review
How to install Ultra FPS Booster
Install Optifine HD (Not necessary but desirable)
Download Resource Pack
Unzip it and copy to C:\Users\User_Name\AppData\Roaming\.minecraft\resourcepacks
In the game settings, select the desired resource pack
Ready