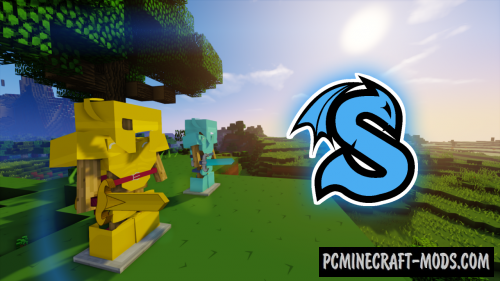 SapixCraft Original 1.17.1-1.16.5 is a smooth cartoon-medieval textures that will clear vanilla blocks and objects from unnecessary pixels. This has several resolutions (512x, 256x, 128x, and 64x) and addons (PvP, 3D), but it won't affect the pure cartoon style much. The updated game world will add a new interest in survival and with this resource pack, the player will get a lot of impressions.

First of all, it is worth noting the remarkable optimization of packs, because even at the highest resolution, the author compressed all the textures so that players with weak computers could play without frequent lags. Additionally, it is possible to get even more improvements using graphical algorithms from Optifine HD. SapixCraft contains all the necessary scripts and alternative textures for 3D, which is much better than using external modifications.
These cartoon-medieval packs can be used everywhere, for example to simply explore the world or to make your home more detailed and updated. In each element of the gameplay the player will be able to feel new sensations and impressions because the author has been working on this for a long time and received a lot of feedback about the shortcomings and various ideas to further improve your resource pack.
Blocks of trees and processed wood have a slightly modern look, something like the result of varnish treatment. All wood products, such as boards, stairs, doors or even tool sticks have a unique style that looks good at short and long distances. Do not forget about the possibility of combining in an orderly or chaotic order to add modern notes to your room or even using different types of wood for the facade of the house.
Tools, armor, and weapons received more pronounced materials on the stick. This looks softer than the vanilla style because the author has hidden cartoon details in every detail. A similar style of drawing can be seen in other modern RPG games for phones or some PC games. Additionally, you can install Colossal Items Add-on which increases the majority of items held in your hand.
Environment blocks and ore blocks have a relaxing look, because it is made to make the player feel comfortable even if he spends a lot of time in the mines. Ore blocks are a bit hard to distinguish but after a while you will be able to quickly distinguish simple ores from precious ones. Building blocks always throw ideas during the construction of large or small projects.
The author has done a lot of work on porting the Java version for mobile devices and other owners of Minecraft Bedrock Edition. You have a great opportunity to buy SapixCraft for a few dollars at the link below.
Screenshots
How to install SapixCraft Original
Install Optifine HD (Not necessary but desirable)
Download Resource Pack
Unzip it and copy to C:\Users\User_Name\AppData\Roaming\.minecraft\resourcepacks
In the game settings, select the desired resource pack
Ready
Official site:

Direct links:

Addons: