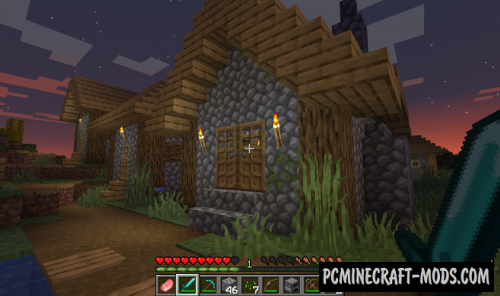 This resource pack was obtained by complex algorithmic resizing of your original textures, which is designed to make it more realistic and fully compatible with all your favorite vanilla styles. With the VanillaXBR 1.16.5-1.16.4 you can complement the gameplay and get the maximum pleasure of staying in the game world.

After the program automatically improved the resources, the author started manually adding even more features for blocks, mobs, GUIs, and other small elements. In total, there are 140 improvements, among which you can notice more realistic monster skins; emotional animal faces; improved HUD; customized and modified GUI in the main and other menus; added more modern switches; improved behavior and textures of grass, bushes and trees; tweaked most nether blocks and mobs; added anti-aliasing for banners and other decorative objects; item icons have been improved; meat and fish icons have been further refined, as well as many other changes.
Additionally, it supports many features of Optifine that can further improve the appearance of the game world. The player can also install shaders that add realistic skies and new physics for liquids, sunlight, and wind.
Screenshots
How to install VanillaXBR
Install Optifine HD (Not necessary but desirable)
Download Resource Pack
Unzip it and copy to C:\Users\User_Name\AppData\Roaming\.minecraft\resourcepacks
In the game settings, select the desired resource pack
Ready
Created by Misterk7_-