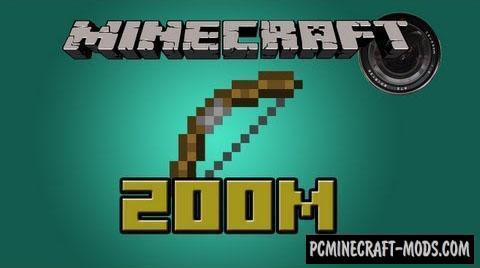 Zoom 1.17-1.16.5 is a small but useful modification for survival in the minecraft world. This contains binoculars that allow you to view objects that are difficult to see at long distances (Maximum drawing distance enabled). Use the C button to zoom in on the image.

Features
Press C (You can change it in the keyboard settings menu) and use the mouse scroll the zoom in and out (Only for MC 1.8)
In version 1.8.9 you can activate or deactivate the smooth camera using the following commands: /betterzoom toggle, /betterzoom togglesmoothcamera
For MC 1.8.9 you will need to deactivate the standard zoom in Optifine (If installed) to make it work (Press escape on the Zoom key bind) and Press C
Fabric zoom has a settings menu where you can enable additional functions: Smooth Camera, Reduce Sensitivity, Hide Hands, Smooth Transition, Zoom Toggling and Zoom Scrolling.
Screenshots
Review
How to install Zoom
Download mod
Unzip it and copy to C:\Users\User_Name\AppData\ Roaming\.minecraft\mods
Ready
Fabric:

Forge: