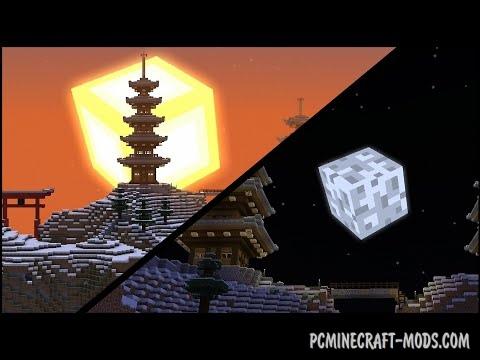 The name of this graphic modification speaks for itself! This will appeal to those players who do not like the flat sun and moon in the vanilla game world, so here is a full 3D version of the celestial bodies that are created to fix bugs in each of the custom texture packs.

This was created specifically to make not only the sun, but also the Moon more realistic, replacing the old flat version with a more suitable one that retained the default gameplay. You will also notice the beautiful effect of the moon phases, as well as the smooth blending of the colors of the sun's rays during dawn and sunset. Additionally, there are some scripts that are activated when using Optifine.
Compatible with the following versions: 1.15.2, 1.14.4, 1.12.2, 1.9.4, 1.8.9, 1.7.10, 1.6, 1.5.
Screenshots
How to install 3D Sun and Moon
Install Optifine HD
Download Resource Pack
Unzip it and copy to C:\Users\User_Name\AppData\Roaming\.minecraft\resourcepacks
In the game settings, select the desired resource pack
Ready
Created by: Stridey Official Twitter