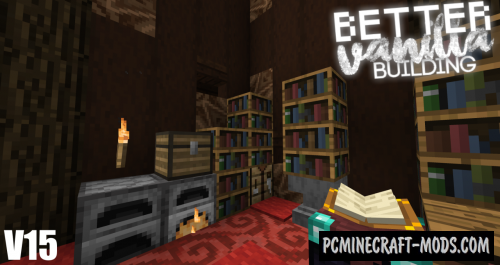 BetterVanillaBuilding 1.17.1-1.16.5 is a great resource pack that was pre-targeted at creative builders, it contains vanilla-style textures with significantly improved color changes and a huge set of more uniform and much better textures for blocks.

The BetterVanillaBuilding resource pack will replace such blocks that are always ignored by other packs, because it has some of the main features of the gameplay and sets the atmosphere for the background of the game. You may think that it does not have a single style, but keep in mind the only point that it is intended for the player and everything that you will build with these textures will be very beautiful and unique. This applies to your ready-made buildings, just install these resources and go to your survival world where there are some of your buildings and in the end you will be delighted with the changes.
Optifine Features
Added new options for the following mobs: Cow, pig, zombie, skeleton, ghast and enderman. Added random shadows for different parts of the body. Each of these mobs can have up to 6 skins (Differ in some small details and facial expressions)
Customized GUI inventory for shulkerbox, chest, dropper and barrel. Shulkerbox has more than 16 options to choose from

Shulkerbox example:


Chest example:

Barrel example:


More realistic glasses and their 16 color options. New ray physics, transparency and colored light rays on the other side of colored glass blocks
New realistic interactions between snow and various plants or other blocks. More than 62 possible interactions
Feature to activate holiday options for vanilla items. You can use garlands, decorated glass, Christmas gifts and other traditional things.
Screenshots
How to install BetterVanillaBuilding
Install Optifine HD (Not necessary but desirable)
Download Resource Pack
Unzip it and copy to C:\Users\User_Name\AppData\Roaming\.minecraft\resourcepacks
In the game settings, select the desired resource pack
Ready
Official Site: