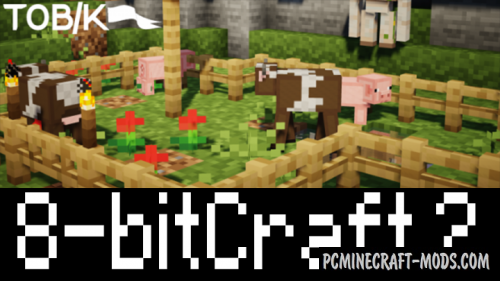 Here Tobik's 8-bitCraft 1.16.5-1.16.4 is a very atmospheric resource pack in a fairly low resolution – only 8 by 8 pixels! But it looks very good and the player will no longer want to immediately delete this resource pack. This has the maximum default style but with a simplified vanilla theme, so it should appeal to most fans.

The author redrawn many textures: the environment, menus (GUI and HUD), 3D and 2D items, paintings, animals, and blocks. In addition, a lot of work has been done on adding script models to the block surface, so this creates a lot of micro 3D particles on different textures. The author has made a perfect optimization and it will appeal to all owners of weak computers or for those players who are just a fan of minimalism.
Minimalistic theme has many advantages and disadvantages, for example, the main disadvantage is the fact that the player will be difficult to distinguish similar blocks (Ores, some tools among stones and some decorative blocks), but all this merges into a single layer that will fit harmoniously into any interior and even decorate a primitive design. Poorly detailed objects somewhat resemble old games, and such elements add more cute emotions from the gameplay, so that your game will turn into a classic sandbox with a huge springboard for various tests.
Screenshots
How to install 8-bitCraft 2
Install Optifine HD (Not necessary but desirable)
Download Resource Pack
Unzip it and copy to C:\Users\User_Name\AppData\Roaming\.minecraft\resourcepacks
In the game settings, select the desired resource pack
Ready
Official link:

Direct link: