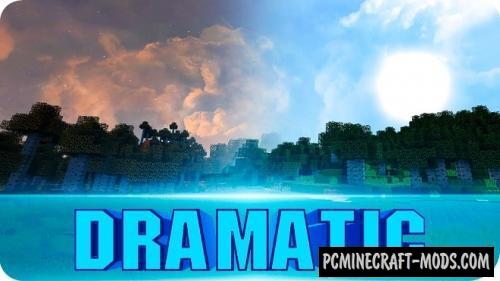 Dramatic Skys 1.17.1-1.16.5 is an HD resource pack with realistic clouds and lighting. This pack works as an add-on for any other pack, and it also replaces resources related to the sky and lighting. This texture does not require a powerful computer or laptop, you will not notice a drop in FPS compared to standard options.

Once installed, you will get amazing graphics with extremely beautiful landscapes, so you will not want to leave your game world. In total, the Sun, Moon, daytime sky, sunrise and sunset, and starry sky will be changed. It is also worth noting that the author used different resolutions for each of the objects, for example, the starry sky has 128x pixels, while star objects and clouds have 256x pixels. The most detailed object is the Moon, its each phase is drawn in a resolution of 512x pixels. Additionally, players will be able to get rid of unrealistic rain and get a 128x option in return.
Basically, all this is used as an alternative for shaders, because you do not need to install optifine and other modifications that make it possible to play with Forge or Fabric Addons.
Screenshots
How to install Dramatic Skys
Install Optifine HD (Not necessary but desirable)
Download Resource Pack
Unzip it and copy to C:\Users\User_Name\AppData\Roaming\.minecraft\resourcepacks
In the game settings, select the desired resource pack
Ready
Credits
Created by: thebaum64 (Official download page)