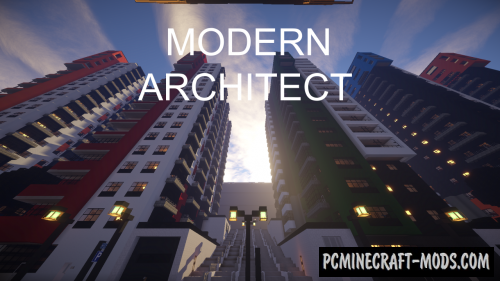 The Modern Architect 1.16.5-1.16.4 is a unique resource pack, namely a mix of many realistic textures that combines all their best parts. This creates, perhaps, the most ideal option for absolutely all lovers of good architecture. The result is a very bright, contrasting and maximally sterile resource pack!

It took the author some time to find the best options for the environment, herbs, plants and other small details that are used to decorate the facade of buildings or as a decoration inside rooms or halls. You can use this high quality 512x vegetation to make a beautiful garden around the house or for example to plant vegetation in parks and roadsides. Now the player will have more opportunities to design any city in size and content, because it will look more modern and richer in terms of colors and building materials.
Additionally, some scripts have been reworked that allow you to change 3D models of blocks, tools, and vegetation. Players can more freely use decorative building materials in a wider range of projects and this will significantly speed up the process of finding the necessary materials.
You can add different shaders to enliven the game atmosphere a little by adding shadows, wind, sun rays, but inside the room it does not matter because each room will start to take over the realistic texture elements that are used in most modern games.
Screenshots
How to install Modern Architect
Install Optifine HD (Not necessary but desirable)
Download Resource Pack
Unzip it and copy to C:\Users\User_Name\AppData\Roaming\.minecraft\resourcepacks
In the game settings, select the desired resource pack
Ready
Created by grobi03