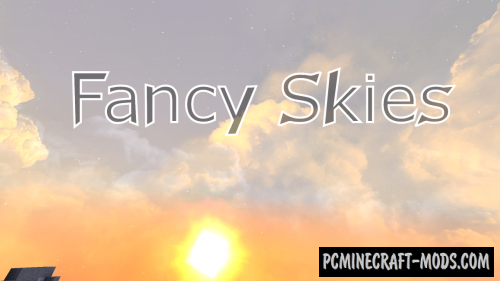 This resource pack called Fancy Skies 1.16.5-1.16.4 will be able to change the long-boring vanilla sky to the HD version in your minecraft. Pack is also adds a new sounds, and of course will handle light and particles, because it has some built-in shaders.

This relatively small change is designed to maximize the appearance and add a new atmosphere to your favorite game without using additional Optifine or different shaders. Depending on the weather and the biome, the skybox will dynamically change its textures, and this is very cool. If you are tired of the standard vanilla minecraft background, then Fancy Skies texture pack is what you are looking for!
Many players like to meet the sunrises and sunsets in specially built places in the house, or even build entire altars for this, so the updated sky textures will perfectly complement this vanilla flaw. Additionally, your night adventures are also supplemented with additional game elements because each night will get a more realistic and beautiful sky with a bunch of stars and even moving moon clouds.
Screenshots
How to install Fancy Skies
Install Optifine HD
Download Resource Pack
Unzip it and copy to C:\Users\User_Name\AppData\Roaming\.minecraft\resourcepacks
In the game settings, select the desired resource pack
Ready
Created by oakar258