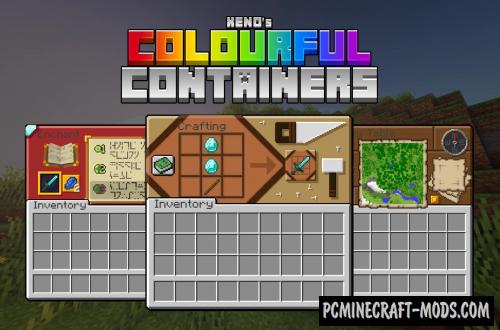 If you are a little tired of the main user interface in your favorite game you can now try the new theme GUI's from Colourful Containers GUI 1.16.5-1.16.4 texture pack which will significantly improve the gameplay and make survival a little clearer because there are a lot of hints.

This resource pack was created just to improve the GUI and not to change the vanilla blocks, so you will need Optifine HD to improve the standard graphics to a better quality. The author has improved all available interfaces: workbench, oven, char table, anvil, drawers, shulker box, dispenser, and funnel. Please note that the author publishes updates based on full releases for Optifine, so you may get some errors while using on new Minecraft versions.
Instead of the usual gray-white window, the player will see beautifully designed windows, where you can notice a lot of details, for example, the workbench GUI has many popular home tools (a hand saw, hammer, nails, and a table with a place for ingredients);
the stove GUI has an inverted front view where the player can load wood, put the necessary things for frying in the upper part and a small window with bars that resembles a barbecue with a view from above;
simple and shulker boxes have updated their GUI's so that the player seems to open and look inside the chest, a very realistic idea;
Dispenser and Dropper have a lot of hints in their GUI, where the author has drawn some redstone mechanisms and diagrams that sometimes help you improve or complete some complex mechanisms;
the map GUI has many tools for drawing and zooming maps that will awaken the player's interest in exploring new places.
Screenshots
How to install Colourful Containers GUI
Install Optifine HD
Download Resource Pack
Unzip it and copy to C:\Users\User_Name\AppData\Roaming\.minecraft\resourcepacks
In the game settings, select the desired resource pack
Ready
Created By Chris_VRENNA